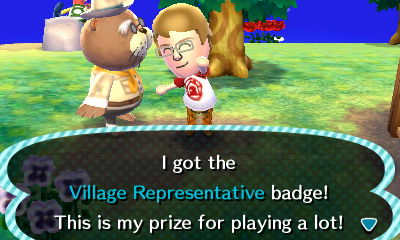 I feel like the badge guy is way too hard to locate. I do not like that I have to wait to see him in order to get badges to display on my ID card.
Clark was the first to discover that. If you dive for something and it turns out to be a scallop, Pascal will surface and offer to trade the scallop for a piece of rare furniture. I'd always go for the furniture, although I have not tried to sell a scallop to see what it's worth.
Hey, I earned the right to serve coffee at the Roost. Brewster pays you in bullshit, though…
What am I supposed to do with these beans? He has also given me a coffeemaker, but I do not think it is an interactive object.
There's the kind of coffee Isabelle likes! The better you are at guessing/serving drinks that the animals like, the better your prize payout, I guess?
I managed to finish off the Varia suit, which is 100% done out of fortune cookies…
And here's a not-at-all compromising picture of me at the US Nintendo Dream Village…