Somehow, Toys R Us managed to get GTA: San Andreas on the racks before their Buy 2 Get 1 Free sale ended. The local game stores all had lines out the door for GTA purchases last night; we strolled into TRU tonight and they had plenty on hand. So I am back in the familiar GTA setting well ahead of schedule! And yeah, we took advantage of the sale and picked up Silent Hill 4 and Karaoke Revolution 2.
Last weekend I impulse shopped X-Men: Legends... even though I knew San Andreas was coming, I'm only 2/3 through Sly Cooper 2 and Burnout 3, 4 badges into Pokemon LeafGreen, one level in Pikmin 2, and haven't even booted Paper Mario. I don't know why I do these things. It's a large To Do pile right now. I won't get to the unstarted games until next year... which begs the question as to why I bought them already. Well, I like helping to support Opening Day sales, all right? Without me, those 114,000 sales of Pikmin 2 during the first week of release would have only been 113,999.
So, first impressions of San Andreas. This game isn't afraid to throw around the F-word and the N-word, I'll tell you that much. As the story begins, you (CJ) are returning home to the state of San Andreas after living in Liberty City for 5 years... your mother is dead, your old crew is scattered, and some corrupt police are looking to frame you for a cop killing. You reunite with your brother Sweet and what few pals are left. They start off hating on you, but quickly reintegrate you into the gang after a few tutorial missions.
One of which requires you to run to the store and buy some clothes in the gang's chosen color, green.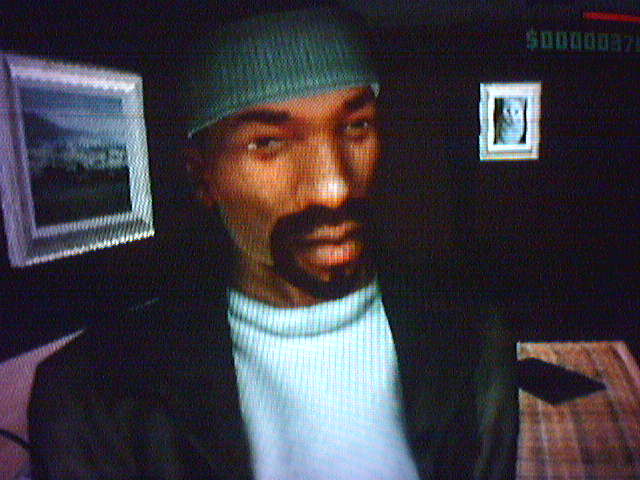 This is me, and that is a picture of a cat in the back.
I went with a Mike Nesmith Does Paintball sort of look. Even this early in the game, you stumble into a ton of customization options... haircut, clothes, tattoos. Plus the all new stat-building subtext. Continued driving makes you a better driver. Exercise at the gym increases your health and keeps you from getting fat. One message I triggered tonight said "bike riding increase - you will fall off the motorcycle less often."
Pickups are much less garish than the neon pink floaters of Vice City, which is nice. However, San Andreas tries too hard on realistic night and day cycles... during sunrise and sunset it becomes terribly difficult to see what's onscreen. That Olde English font that they use everywhere sucks ass. Most letters are illegible, especially when the font gets rastery. It sucked when Toonami used it, and it sucks here. I can see using it for the game logo, print pieces, and some larger designs, but I can't believe Rockstar looked at the small font that pops up to tell you the name of the area you're in and said "yeah, that looks fine." I still haven't deciphered the name of my hometown area. Tanton? Ganton? Haunton?
I've found three playable arcade games - there's a game console in your first save house and two coin-ops in the bar down the street. The games are nothing special, but it's some nice extra immersion to be able to play what was just a render prop in previous games. I also played pool against a local shark (lost $50) and visited the off-track betting establishment and played the ponies (won $25).
You get a camera right from the start, along with the option to take pictures and save them in a gallery. Awesome. One of the sidebar missions requires you to spray paint your gang's logo over 100 enemy gang logos... and you can also use the spray can in a fight. Rival gangbangers hate getting that in their eyes. I also found a shovel, baseball bat, the usual guns... and you can walk off with the pool cue after playing a game. Whack!
My stomach is growling, so I guess I should go grab a bite to eat at the good ol' sexual innuendo restaurants that are always all over these games.