Yesterday morning was the annual video game / pinball auction at Timonium Fairgrounds, which has become a Fourhman Family field trip. We show up early, Dad gets a bidder card (just in case) and we all wander around rows and rows of video games and pinball machines. Most are set to free play - if you can plug them in - so it is a crazy mad coin-op buffet. No Mappys to be seen this year. Regular visitors bring their own orange power cables.
Since most of the video games are classics (which are readily available to play these days anyway), I find myself playing more pinballs than anything else. The thing about pinball is that it sucks: there are times when there is simply nothing you can do when a ball heads down the out ramp and is lost. When you're blowing quarters on cosmic chance like that, I hate it. But when the machines are on free play, I'm happily checking out every interesting-looking model. I love the modern electronic versions, with the LCD displays, complicated goals, and prop-centric tracks. Dad is more of a classic pinball fan (he owns an Aztec and a Flip-A-Card.)
But for all the fun of stress-free pinball play, nothing beats walking around trying to identify nearby games solely on snippets of audio. "Whoop, somebody just died in Donkey Kong. Sounds like the opening to Time Pilot. Is that Mr. Do?! I got nexts!"
One year I bid on a 4P Sunset Riders machine, but I bailed when it went over $200. Chicken. Plus, I'm not sure we have a door in the house wide enough to get her inside.
The auction always has a crazy room with gumball machines, bar game units, slots, drink dispensers, and other bizarre big items. This year they had something I've never heard of, a giant Dancing Pikachu.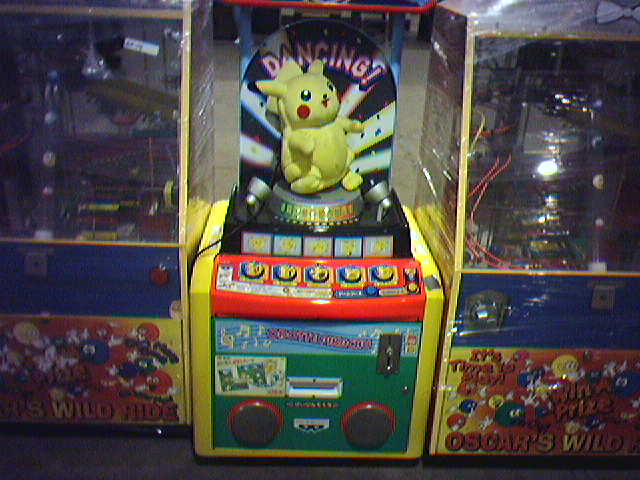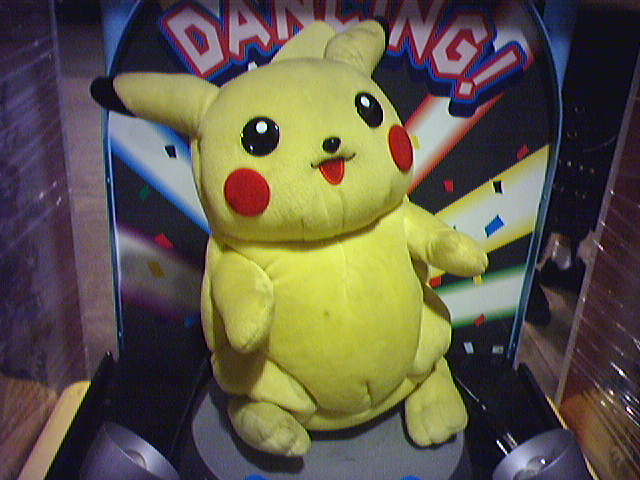 The text was entirely Japanese, so I'm guessing that, at the cost of 100 yen, you would press buttons to make the two-foot high robot Pika dance. It also dispenses Pokemon sticker(?) sheets. I don't know if there was an actual game involved (press the buttons as they light?) or if you just are meant to enjoy controlling the bionic rat. We could not plug it in... and I bet it wasn't set to free play anyway. A posted sign send it was "extremely rare" and a "distributor's model" and originally sold for over $3800. That probably placed it out of my buying range, but you never can tell at an auction, especially a blowout like this where everything is sold no matter how low. I really wanted to see how much it would go for, but the auction ran into some nasty slowdown over in the slot machines and was taking forever to wind around the room. If you're serious about bidding at this show, you need to reserve the entire day to it.
So Dancing Pikachu did not come home with me. It would have been one hell of a collectible.
What did come home with me is 14 CreepyFreaks boosters, bargain-priced at 50 cents apiece. Random, but appreciated. I think the game is dead now, but still cute.