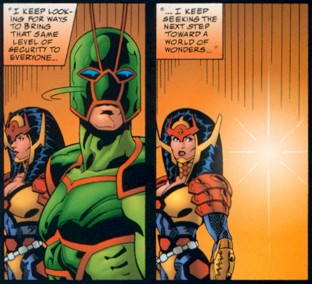 We've had some new additions to the Ambush Bug Archive... Tenzel Kim sent me some interior panels featuring the Bug. I've had quite a lot of user submissions over the years, and I do appreciate that.
I added the update to the button strip here on the main page, but I dated it for February, because I'm tired of February constantly getting ripped off with only 28 days. As far as I'm concerned, it's February 1 right now. Why the hell should January have 31 days?
DC recently announced the cancellation of Young Justice, which became one of my favorite titles once they got past the overly-silly first couple issues. Thanks largely to artist Todd Nauck, YJ has regularly slipped in Ambush Bug cameos. Guess that's over. Still, Nauck and writer Peter David deserve a huge array of thanks from fans for sticking with the book throughout the entire run, over 50 issues. These days, it's a huge achievement to keep a creative team for 10 issues, and these guys have guided the book for 5x that.
Titans is also being cancelled, but I must confess I won't miss that one much. DC plans to reorganize some of the loosened YJers and Titans into two new books, a new Outsiders (sheesh) and a new Teen Titans (sheesh again.) Teen Titans will inherit Robin and Superboy from Young Justice, along with former Titans Cyborg, Raven, Beast Boy and Starfire. That team is almost exactly like the team in the upcoming animated cartoon called Teen Titans, so you can see the marketing machine at work wrecking current comics continuity for the sake of a streamlined media message. Sigh.